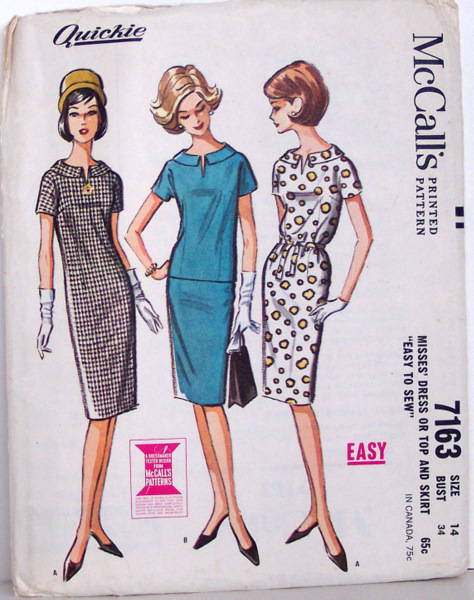 File:7163.jpg - Vintage Sewing Patterns
:
What I am sewing this evening. I got my overlock machine to work! YAY! It is about time.. I really wanted a dress that is cute with heels, perhaps with anything, and easy to wear.. and will show off my really hot body!! (joking!) Seriously, it is not as fitted as I had imagined by looking at illustration (A. I hopefully will make up for it with some back darts.
It will be cute. I am so short. No matter how much I shorten these patterns on their indicated lines, I wind up with a maxi dress. All jokes aside. I am hoping it is as adorable as I am imagining it. I did not line it since this summer is sweltering and beyond any definition of HOT! I own an arsenal of half and full slips, like all ladies should, so it should all work out!
Fabric choice: Striped Blue and White Seersucker Cotton
Optional Lining: Opted Out, since it is a summer dress.
Ease of Pattern so Far: Super fun, and my sewing time was long over due.
Which reminds me, I have made a few pieces over the past couple of months and failed to post them. As I have been purchasing other handmade items from other artisans, I am much more confident in my skills. With the Grand Opening of my Pattern Store I will be more forthcoming with my creations because I know I am damn good! LOL! Just Kidding, there is always space to learn and grow, especially in the huge world of dressmaking.
Next, I want to use my Bishop Book with a Bishop Style Advance Pattern.
Do not FORGET TO SAVE 20% OFF With Coupon at VintageCorePatterns.com with CODE: friends